Garden decor is on trend and is as worthy as the interior decorations! A perfect outdoor can make your home look dominant, and an amazingly renovated green space at outdoor can make your noteworthy! It is excellent if you owe a large outdoor or garden area as today's sharing is all about that how you can give a visual boost to your garden using wood pallets! Get this DIY pallet herb garden and add warmth and beauty to your garden! It is made of one whole pallet skid that has been modified just a little! We've also published these pallet furniture ideas with step by step projects.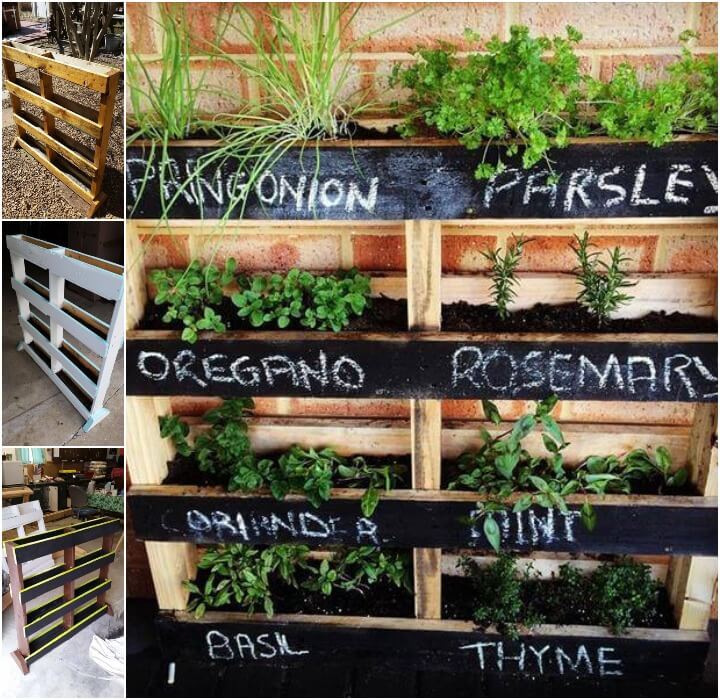 Pluck the pallet slats up, leaving adjacent one in place and fix the removed pallet slats again for incredible potting levels in the board! Add the bottom wooden supports or feet to make this planter setup stand alone and also sand all the edges and surfaces to look smooth and bright!
Paint the planter to go friendly to garden greenery, decor and enjoy!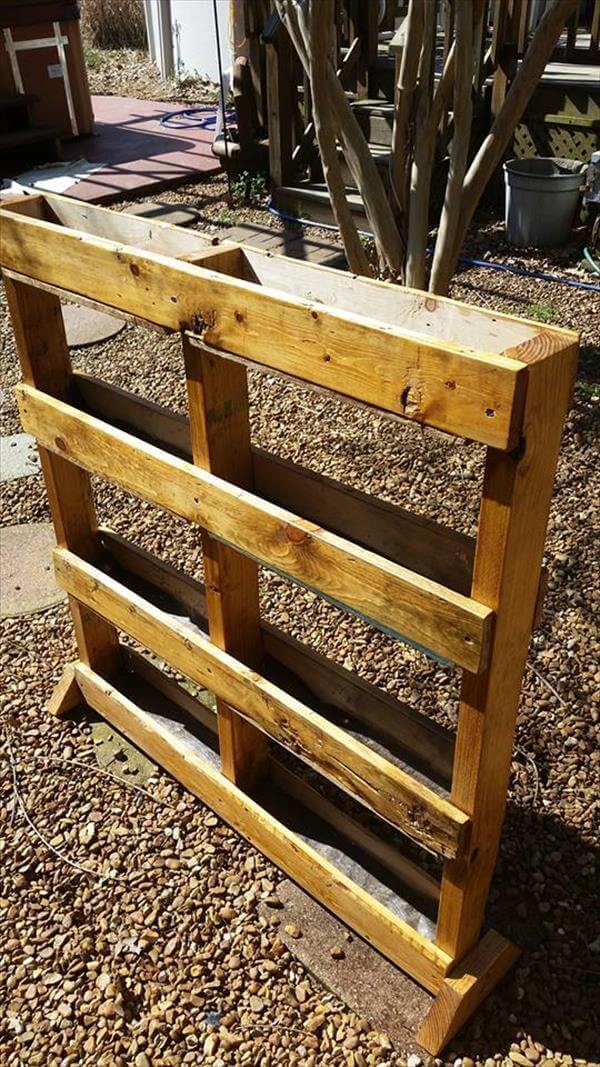 It is effortless to build pallet vertical garden and planter setups, and you only need to modify the original pallet boards a little bit to get potting levels and a great planter as a result of it!
It is a significant pallet achievement for garden and patio lovers and also an instant way to get a natural rustic vibe to your interior spaces!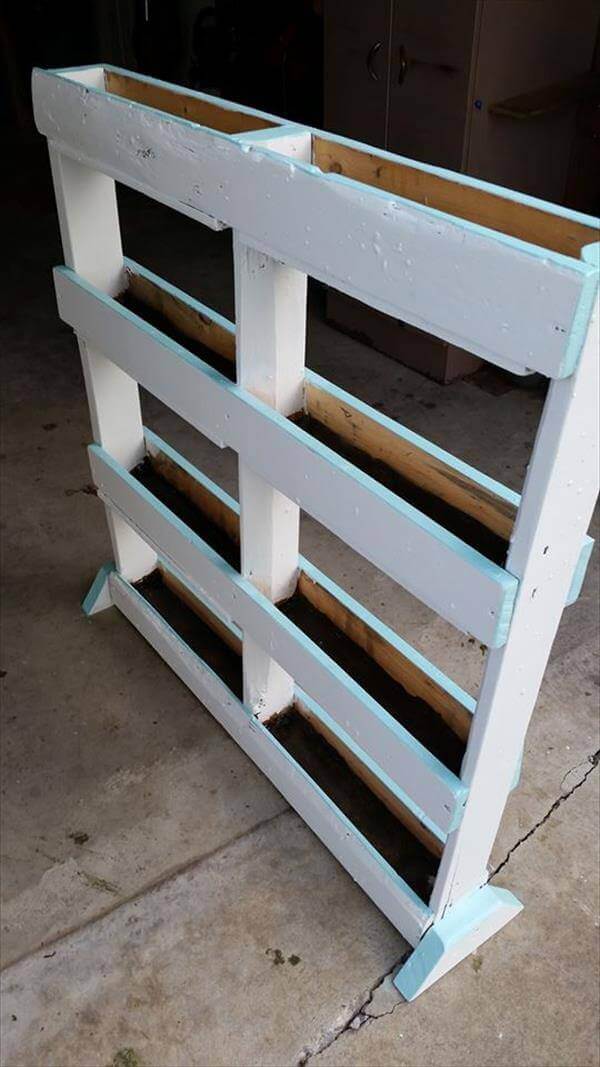 Make your pallet garden appear in any fashionable or rustic mode, and you can select paint or stain to get the personal look of it you want.
The whitewash will also rock if you want a chic white look and use one thin coat of it for a distressed white look.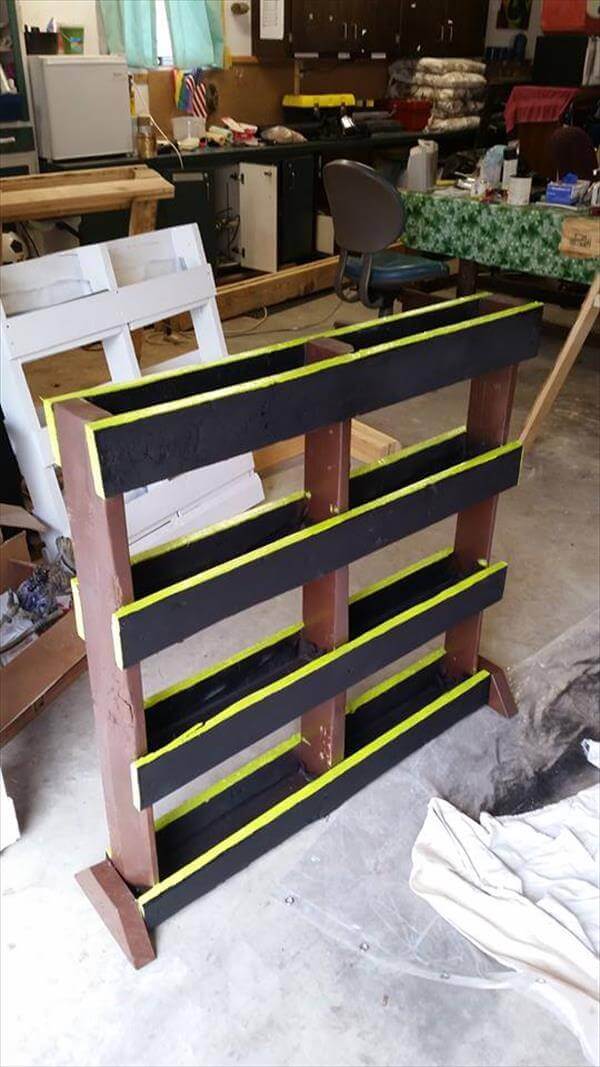 Here is a color combination to get help, black paint has been used with yellow Neon borders, really fantastic suggestion to get an attractive and visually attractive DIY planter.
Paint would also protect the pallet wood from early signs of aging and weathering!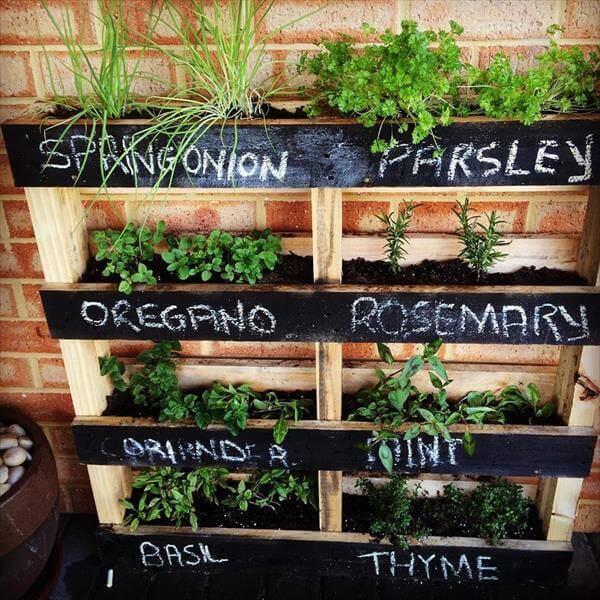 There is another good use to use the black paint on the potting levels, and you can write the name over of your favorite plant inside using the white chalk! Also, use the carved letter or vinyl letters to tag the herb or flower names!
You love these?45 Pallet Outdoor Furniture Ideas to reuse old pallets!